The people who do blogging they face this annoying error "the response is not a valid json response" on WordPress.
Usually, the error happens when you are uploading new images in your blog post
when this error happens people always search the internet and youtube but they couldn't get the correct information to solve it
This error happens not only when you upload a new image but also when you edit HTML of a blog page
I try to install some plugin like class editor, Gd plugin and page builder but it doesn't help me to solve this issue, I thought it might happen because of the image file name so I change it over time but no use
I had no idea how to solve this error then I made a call to WordPress hosting provider(GoDaddy), he told me the WordPress is perfectly fine I have something problem with my images, not the WordPress hosting
The cause of the error: this error occurs when the size of your image is bigger in size usually more than 1200 X 600 pixels in dimensions also due to file size
Another cause of the error: there might be many reason's for this error but it also depends upon the hosting plan you are using
If you have shared hosting that means you site resources is shared and restricted to certain limits, when the limits are crossed the data upload become slower
It's better to have a good hosting plan to speed up your site
Actually, I use Canva to build images for blog post, the problem occurs during the process of building images one has to take care of the image size you are building.
If you use Canva to build images then at the time of image building you can download the build image whichever format you like JPEG or PNG
Sometimes if the size of the image is big with PNG format then download the build image with jpeg format so that the size of the image is reduced
So, what should we do to avoid this annoying WordPress error
Have you ever heard the term image optimization but I never heard the term when I was starting my blog
As I didn't know about image optimization for WordPress, I used to upload large size images on my website and because of that loading time is increased
Why loading time is important for WordPress?
According to backlinko.com almost half of the mobile user's will leave a website if it doesn't load within 3-4 second's of time and also he noticed fast loading site more likely to rank in google search
Is there any way to do manually image optimization website?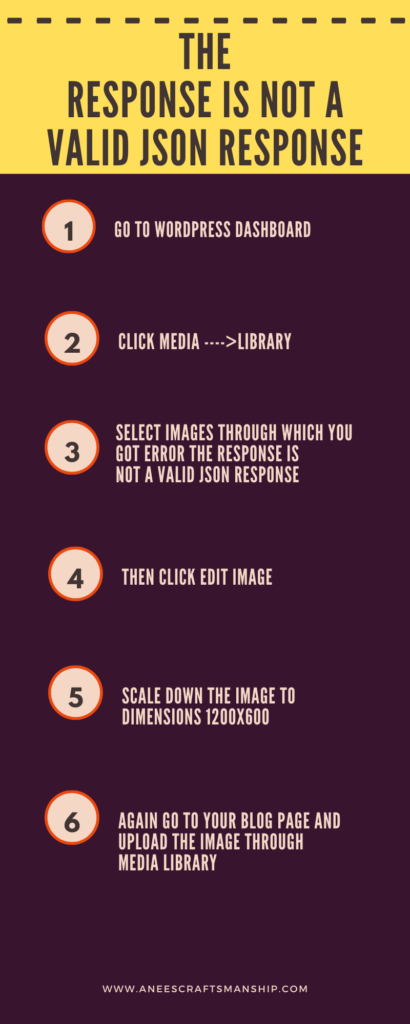 YES! You can do manually also
Go to WordPress dashboard
Click media —->library
Select images through which you got error the response is not a valid json response
Then click edit image
Scale down the image to dimensions 1200X600
Again go to your blog page and upload the image through media library
Is there any online tool is available for image optimization for website?
YES! You can click here, for image optimization WordPress online tool
Is there any image optimization plugin WordPress?
YES! You can use the plugin for image optimization for SEO the most popular plugins are
Smush, compress, optimize and lazy load images
Short pixel image optimizer
Compress JPEG & PNG
I feel It is better, to do manually instead of using plugins
I hope you have solved the Annoying WordPress error, the response is not a valid json response through this blog