IEEE Standards
Ieee standards are a set of standards developed by the computer society of the IEEE to set the standards for communication among different manufactures devices and it is adapted by ANSI, and, ISO also approved it
The Project 802 of the IEEE standard does not build to replace any part of the OSI model but it is a way to specify the physical layer and data link layer
What is IEEE 802.11? and what is Wi-Fi?
The IEEE group has defined certain specifications for WLANs(wireless LANs) known as IEEE 802.11 that covers the physical and data link layers
On the other hand, the Wi-Fi Alliance provides the interoperability testing for 802.11 WLAN devices
The Wi-Fi is a general term which is given by Wi-Fi Alliance for wireless stands such as
Wi-Fi 6 for the wireless standard 802.11ax
Wi-Fi 5 for the wireless standard 802.11ac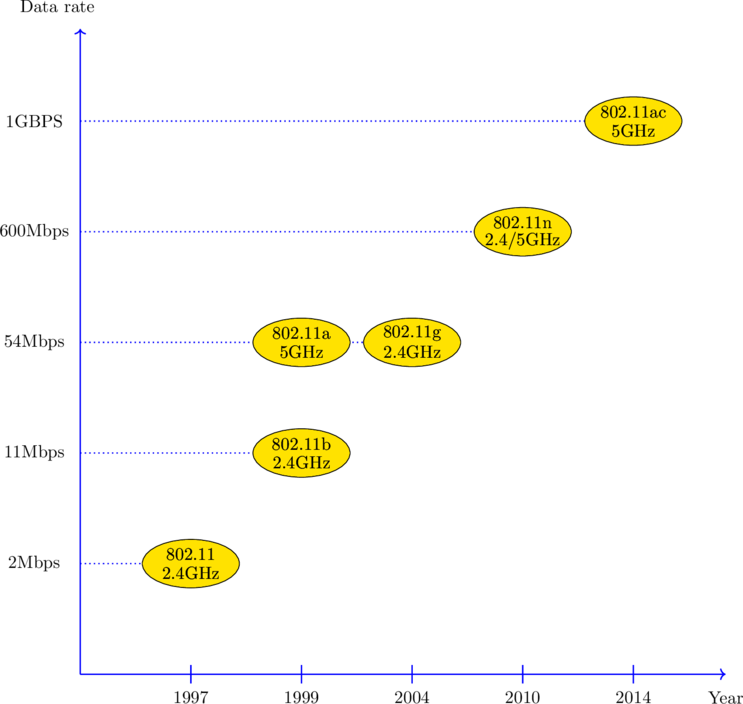 What is Wi-Fi Certification?
The Wi-Fi Alliance is a worldwide organization that follows the standardized 802.11 processes for the development of WLAN devices
You can visit the official website of Wi-Fi Alliance from here —–>
The purpose of Wi-Fi certificates is to provide assurances that Wi-Fi devices and applications have met the highest standard to operate in different environments such as interoperability, security
The Wi-Fi Alliance has introduced simplified generation names to simplify the identification of Wi-Fi devices
| | |
| --- | --- |
| Generation name | Technology supported |
| Wi-Fi 7 | 802.11be (in development) |
| Wi-Fi 6 | 802.11ax |
| Wi-Fi 5 | 802.11ac |
| Wi-Fi 4 | 802.11n |
WLAN support in windows operating system
If you are a window user then you can view the type of wireless standard your device can support
First, open the command prompt by short key win+r and type cmd
Second, type the command in the command prompt as "netsh wlan show drivers"